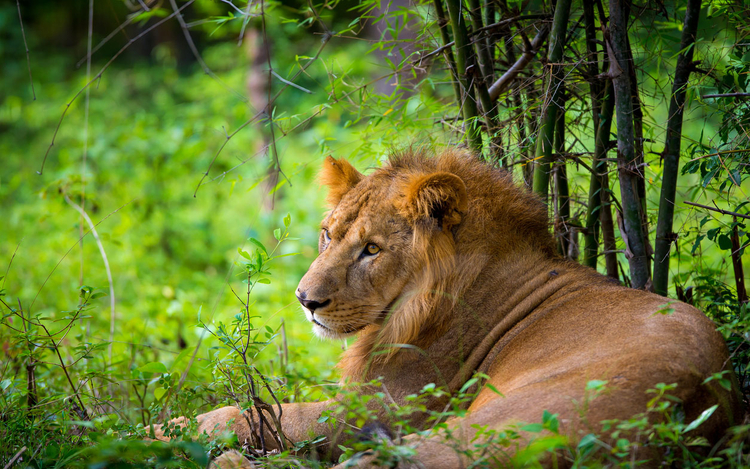 An Ecological Depot
The whole location is a protected area and covered by a dense forest of deciduous trees. As already mentioned, various types of animals coexist with each other here. The vegetation is also dense due to the favorable environmental factors. Apart from the presence of several perennial rivers, Gir experiences all the three seasons. The rich biodiversity of this region makes it a favorite spot for scientific studies.
The Fauna Of Gir
The lions are the prime attraction of the Gir National Park. Around three hundred species of the animal lives here. The Asiatic Lion, scientifically named Panthera leo, is slightly smaller than its African cousin. Currently, about four hundred and eleven lions are thriving here. The government arranged for a preservation and breeding program for these magnificent creatures. The total headcount of animals in Gir is about two thousand three hundred and seventy-five. Among them, thirty-eight are mammals, three hundred species of birds, thirty-seven types of reptiles and the rest are insects. The important ones among the animals are lions, bears, leopards, jackals, mongooses, cobras, and desert cats. Among herbivores are blue-bulls, sambar deer, and chital deer.
The Flora Of Gir
The trees and plants of Gir are also worth noticing and admiring. Teak trees accumulate most of the areas of Gir. The other species of trees which you can find here are bamboo, acacia, jamun, salia, banyan, ber, etc. The broad leaves of the trees increase and preserve the moisture content of the region. The forest department, out of their own accord, planted Casuarinas and Prosopis trees in the coastal borders. This measure averted the problem of deforestation. Severn major forested regions sum up to frame the entire area. Some of the important areas are the dry deciduous teak forest, open scrub, mixed forest, savannah, riverine, and thorn scrub. According to a survey conducted in 1955, around four hundred plant species exist here.
Other Interesting Things
Of course, Gir has more to offer to tourists than its flora and fauna. The park is in proximity to a beautiful lake known as the Nalsarovar. This water body is also a sanctuary for birds. You can spend some moments of peace and tranquility if you sit by the lake. While doing so, you will spot bird species like the cuckoo, flycatcher paradise, flamingo, sand grouse, eagle, bush quail, woodpecker, peacocks, and more. It isn't possible to see so many different birds in one place across the entire subcontinent. You can see them only at Gir National Park. This lake and its inhabitants can be like a blessing for birdwatchers.
Enough Reasons
Everything mentioned in this topic should be enough to inform you of the reason behind Gir's fame. It is a royal kingdom where the emperor of the animal world lives. It is also the home of many other creatures which add to the glory of Gir. The truth is that the presence of the Gir National Park is reason enough for Indians to be proud. If you are in search of adventure, then Gir is awaiting your arrival. Browse through our wide range of Gir Jeep Safari Packages with accommodation. Best pricing available for Gir Hotels & Resorts.

Click to know the full range of Gir National Park Lion Tour