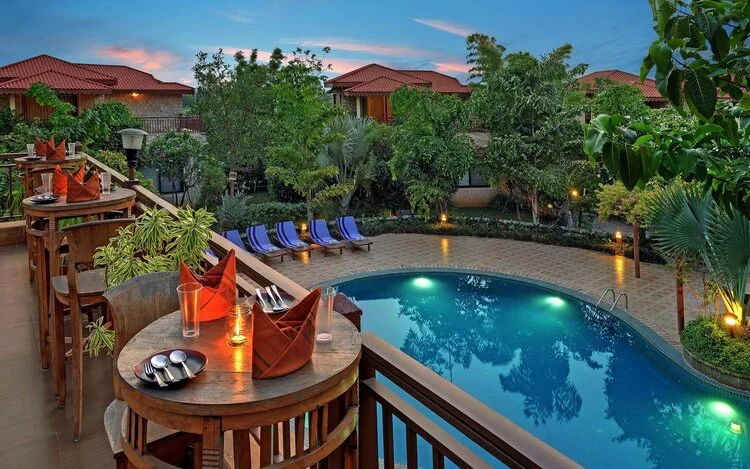 Gir Pride Resort
Although you would get luxurious facilities at this resort, yet, from a practical perspective, it is a Cheap Hotel. You would thoroughly enjoy your stay at this lovely retreat, in the lush green buffer zone of the National Park. It has a terrific multi-cuisine restaurant, serving a range of delectable dishes. Moreover, you can relax in the lovely outdoor pool in its premises. Read More
Hotel Anil Farm House
The hotel started it small with only a couple of rooms. But today, it is regarded as one of the most plush and coziest accommodation choices in Sasan Gir. Its eco-friendly initiatives to run its operations would highly impress you. Its private bathrooms come with free toiletries. The interior décor of the rooms is simple yet very intriguing. Read More
The Fern Gir Forest Resort
When you do an online booking of the majestic Fern Gir Forest Resort, you are sure that your accommodation in Sasan Gir would be regal. It is located on the fascinatingly beautiful banks of the Hiran River. The surrounding hills would give you an additional reason to book your cheap hotel rooms at this place. The resort also boasts of modern spa facilities. The employees at the hotel are helpful and have cordial behavior. They provide world-class room services. Read More
Athiz Resort
If you are searching for an authentic luxurious experience in Sasan Gir by booking a top resort, then Athiz Resort is the right choice to match your needs. It has a spacious shared lounge, adding a great aesthetic value to your stay. The front desk is operative round the clock. Also, it has an impressive restaurant. Moreover, the free Wi-Fi facilities at the resort would help you to stay connected to the internet without any hassle. There would be no problem updating your social media profiles with photographs of the National Park. Read More
The Lions Paw Resort
This is yet another Cheap Hotel in Sasan Gir that efficiently cares for your accommodation plans when you are exploring Sasan Gir. Read More
The Wilds Villa
Do you want to imbibe the soothing yet mystic vibes of pristine nature while you are staying at Sasan Gir? If yes, then you need to book your rooms at the magnificent Wilds Villa, which is an enticingly lovely riverside resort, and regarded very highly in this area. The outdoor pool of the resort is open for the guests throughout the year. Guest rooms are very spacious with all sorts of modern amenities, and free toiletries.
Surf On The Booking Site
Surf the details of each of these hotels on a top booking platform and book available rooms at affordable rates through simple procedures.
Call 09821304180 for Gir National Park Safari Packages and Hotel Booking near Gir National Park