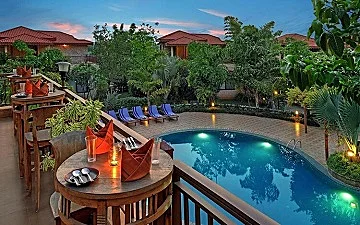 The forests of Manas National Park in Assam are enticing, with their beauty and biodiversity. Getting involved in a safari in these forests is a lifetime experience. But, improper planning could bring hurdles, such as not ensuring standard accommodations.
There is practically no use searching for 'cheap hotels near me' after reaching the spot, as most of the rooms already get occupied in advance. A better way to approach the matter booking cheap hotel rooms in advance. You get lower rates, can avail discounts and coupons, and control the budget for your trip. In this blog, we discuss some really cheap accommodation options for you, when you travel to Manas.
Lodge Alakananda
If you are desperate about searching for a Cheap Hotel in the buffer zone of Manas National Park, then Lodge Alakananda can perfectly match the requirements you have. The clean rooms with fluffy beds and exquisite quality interiors are bound to impress you. Although there is a 'Lodge' in the name of this hotel, you get royal treatment here. The room services are truly impeccable. There is round the clock operational front desk. Manas Park is merely 34 km from the hotel.
Hotel Mayur
Whenever you Google for 'hotels near me' in the buffer zone of Manas, you get the name of Hotel Mayur among top results. The plush rooms and delectable cuisine range of this hotel are too good. You will get full-proof room service solutions, maintain the hygiene standard, especially during ongoing pandemic. You can also avail free Wi-Fi facilities at this hotel. The luxurious furnishings are quite impressive. The entry gate to Manas National Park is about 35 km from this hotel.
Hotel Himalaya
When you are eager to lie in a luxurious suite, in your trip to Manas, you can conveniently consider advance booking of rooms of Hotel Himalaya, a top hotel near the core zone of Manas Park. You would be particularly enchanted by the intricate aesthetic decorations of the rooms. Also, as a guest, you would be offered a complimentary breakfast each day during your stay. Rooms are spacious and airy, with air conditioning facilities.
The Raj Palace
As the name suggests, there is a prominent regality associated with the hotel. The imposing architecture yet subtle interior decorations would captivate you. Each of the rooms in the hotel is well-equipped with a host of high-end amenities. An USP of the hotel is it provides private vehicle parking absolutely free of costs. You can consult with the front desk at any hour to organize your itinerary at Manas.
Arna Residency
If you are searching for something refined, and at the same time, quite affordable, then Arna Residency is the perfect hotel for you, when you plan a trip to Manas Park. The employees of the hotel are friendly and helpful. At its restaurant, you can revel on a wide range of delectable cuisines.
Book a hotel that suits your interests
Make an online booking of hotel rooms that blend with your tour objectives and budget.
Call 07557366366 for Manas National Park Safari Packages