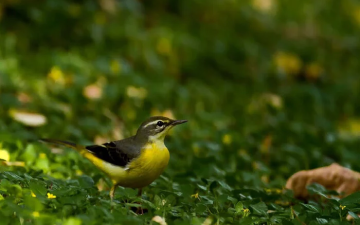 Imbibing The Energetic Yet Subtle Spirits Of The Park
Blending your soul with the rivulets of abstract spirits of the beautiful Park becomes easier when you get involved in tons of activities in and around the Park. The local authorities and concerned administration arrange for several joyful activities in which you can participate. Rates do vary, according the nature, dynamics and duration of a specific activity. But, the services charges are competitive and within your reach. Read along to know about some of the things you can do at Mudumalai National Park.
Bird-Watching
For enthusiasts among you who never get tired of watching birds, there is a wonderful walking tour in the Park, in which you can feel the purity of The Nature in variegated forms, and watch several species of colorful birds. In many cases, you don't particularly need a pair of binoculars, as birds are aplenty and you can easily watch them by naked eyes.
Safari Through The Main Road
Visiting the park means you have to experience its magnificence to the fullest. Only a comprehensive safari can meet this goal. You would receive ample dosages of visual beauty of Nature, at each moment of your journey, through the captivating terrains of the Park. You would come across many specific of faunas as you gradually traverse the path on a robust, reliable jeep, in well-maintained conditions. You must book the slot beforehand.
The Mountain Trek
Trekking in Mudumalai is another mesmerizing activity, perfectly suited for those among you who want to scale a hilltop to quench their thirst for a panoramic view of the region. The tranquility of the place, amidst chirping of birds and insect buzzes, would seep through your veins, refreshing your soul, and filling you with positive vibes. You also get a scope to explore the lovely Mudumalai hamlet in the vicinity. If you know Tamil, it would help you to interact with the local people. The trek takes about a couple of hours to complete.
A Visit To The Kallatty Waterfalls
The Mudumalai National Park has lovely, enamoring waterfalls, by the name Kallatty Waterfalls. Ensure you visit it, if you want whitish azure waters flowing in gusts, and falling regally from a height. You can spend hours, simply staring at the Waterfalls, mesmerized by the magnetic beauty.
Wildlife Photography
One can never miss wildlife photography activities at the Park. There are dedicated tour, too, in which you can participate, exploring the Park in a group and clicking frames oozing in spotless magnificence.
Get More Details
If you are interested in planning a trip to Mudumalai National Park, then start gathering more details from relevant platforms.
Call 07557322322 for Mudumalai National Park Safari Packages and Hotel Booking near Mudumalai National Park