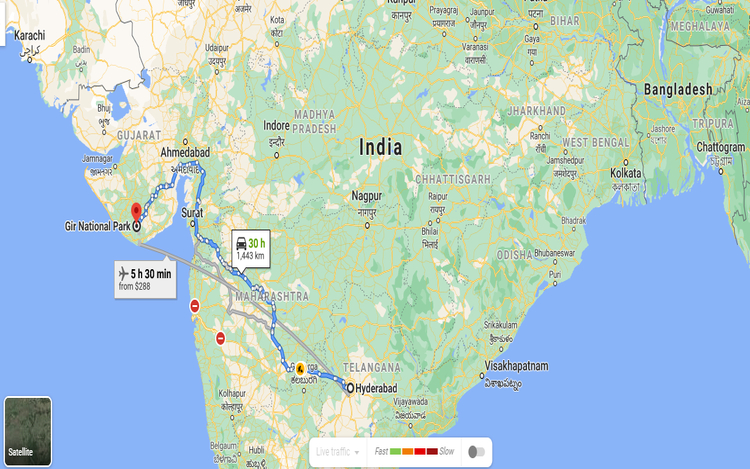 Journey After Reaching Ahmedabad
From Ahmedabad you can hire a sturdy vehicle that will take you to Gir. If you are considering cheaper options then nothing beats the railways. Therefore, you can board the Rajkot Express from Hyderabad for reaching Rajkot and then further hire cab to reach Gir. If you are being driven, then the total distance that you will have to traverse is one thousand four hundred thirty five kilometers. The distance aerially is, about nine hundred twenty seven kilometers.
The Respective Durations
Via Airplane
Because there is no direct route hence through flights are not available to reach Gir from Hyderabad. It is best to board a flight from Hyderabad that will take you to Ahmedabad. On reaching Ahmedabad you can reach Sasan Gir hiring a cab. The distance between Ahmedabad and Hyderabad is eight hundred seventy two kilometers. On the other hand the distance between Gir and Ahmedabad is three hundred forty four kilometers. The total expense of the trip would be around six thousand rupees.
Through Train
Again, there are no direct trains between Gir and Hyderabad. You have to board a flight between to reach Ahmedabad from Hyderabad then from there you can board the Kutch Express. The Kutch Express will take you to reach Malia Miyana. You can reach Gir from Malia Miyana after you have hired a cab. For the train ticket you might have to shell out anything between one hundred fifty to two hundred fifty bucks. A cab service or private vehicle transfer from Maliya Miyana can charge more than thousand rupees to reach the wonderful Gir. Distance between Maliya Miyana and Ahmedabad is two hundred seven kilometers.
Lions Surviving In The Wild
You cannot move away from the fact that last place to photograph and see Asiatic wild lions have to be the National Park of Gir. It enjoys a location near Gujarat's Junagadh district. These are the only lions across the world that has been living in the wild outside African continent. Therefore, you will certainly never want to miss this sole opportunity to visit the iconic place that this one is. India or the Gujarat state proudly represent as host to the well-renowned species of big cat that exists. Initially they were nearing extinction but the rebound in the recent years has been mind boggling.
Efforts Of Conservation That Are Worth Commending
The nineteenth century rulers resorted to a lot of trophy hunting and persecution of this species. This amounted to the extirpation of them. However, Junagadh's Nawab imposed strict protection laws and rules that ultimately stopped the atrocities. Continued efforts of conservation have resulted to a gradual increase of Asiatic Lions. The count is more than five hundred now, as per the census conducted in the year 2015.
Witness Unique Understanding
As a visitor to Gir you will b pleasantly surprised as to how these Gir Lions never attack humans. This is because a wonderful unspoken understanding between the both of them exists. Browse through our wide range of Gir Jeep Safari Packages with accommodation. Best pricing available for Gir Hotels & Resorts.


Click to know the full range of Gujarat Gir National Park Weekend Tour Packages