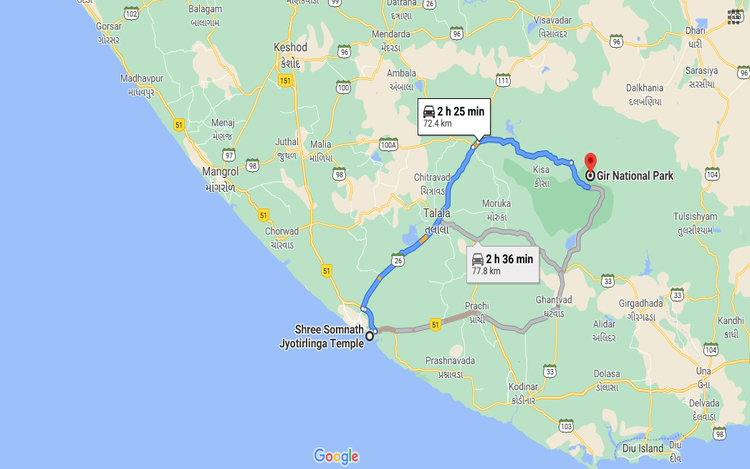 Be Ready For Your Trip
You will not get any direct flight between somnath and gir. The distance between these two places is approximately 42 km by road. The distance from somnath to sasan gir is 37 km by air. If you drive from somnath to the gir national park, then it will take around one hour of commuting. Gujarat state road transport corporation buses run between the cities. You can take one of these buses to go directly to gir.
Make Plans In Advance
The near most airport to the gir national park is diu. The distance between sasan gir and diu airport is about 110 kilometers. By flight, the total distance can be covered within a span of two hours. If you have failed to reserve a morning flight, then you can go ahead and book a trip in the afternoon. You can use that extra time to explore the surroundings at diu.
Exploration Of Gujarat
Alternatively, you can spend a few extra hours at your disposal to pay a visit to the somnath temple. Take the tour from somnath to gir and get a chance to explore the well-known gems of this part of india. One of the popular religious destinations especially for the hindu community is the somnath temple. This crucial pilgrimage is also famous as a tourist destination. This revered temple has shiva as the deity.
Going Via Somnath
The somnath temple is situated at a distance of 80 kilometers from diu. Overall the road condition is good except in small parts. It will hardly be a matter of one hour to reach the somnath temple from diu. Taking rest overnight, you can set off on your journey to sasan giri. The distance between these two places is about 40 kilometers. The entire route will take around thirty minutes.
Know About Gir National Park
The asiatic lion out in the wild is one of the major attractions of gir national park. This is the only place all across the globe where you will come across this majestic species. These animals at one time were almost on the verge of extinction. However, the government played a proactive role and finally succeeded in recovering the dismal state of affairs. These big cats now fall in the category of critically endangered animals. The numbers have shot up significantly as a result of practical conservation efforts.
Have A Memorable Experience
You may be wondering about the best time to visit this part of the nation. December to march is a perfect choice for tourists. During the winter season you can watch the town of somnath and as a wildlife lover experience gir in its full glory. The winter months are pleasant, and you can get respite from the humidity of summer months. Plan your trip beforehand so that you will have a memorable vacation. Browse through our wide range of Gir Jeep Safari Packages with accommodation. Best pricing available for Gir Hotels & Resorts.
Click to know the full range of Gujarat Gir National Park & Wildlife Sanctuary Weekend Tour Packages