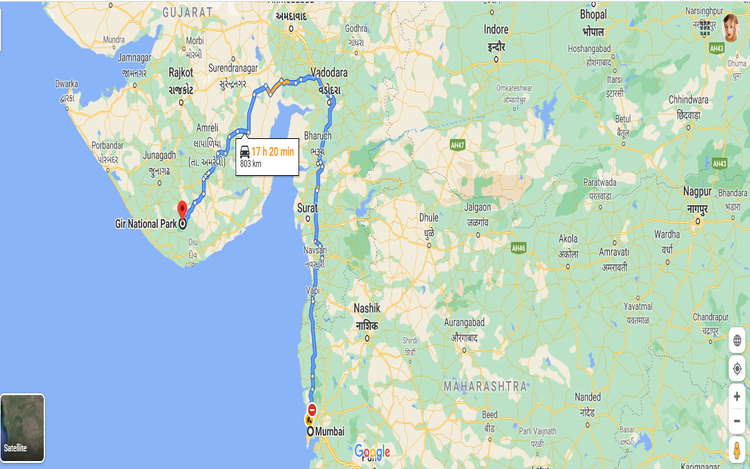 More About Gir
The natural reserve occupies over fourteen hundred square kilometers in the southern part of Gujarat. The Gir National Park is distinctive because of its Asiatic Lions. These majestic animals were all over the Indian subcontinent. Barbaric instances of poaching and pleasure hunting brought this creature close to extinction. The Indian government took stern measures to prevent poaching. It also constructed the Gir National Park in 1965 to preserve these lions.
How To Reach By Road
Gujarat is one of those few states in India which boasts of excellent connectivity of roadways. No other place is more accessible than Gujarat if you're traveling via asphalt pathways. Apart from that, Junagadh is also exceptionally well-connected to all cities inside Gujarat. Some of the major destinations from where you can head to Junagadh include Ahmadabad, Bhavnagar, Surat, and Rajkot. You can avail private buses and state buses. Cars on hire are also available as well as taxis. So, if you're planning on a 'road trip' then Gujarat shouldn't give you any problems. You can even travel to Gir directly from Mumbai with your vehicle.
How To Reach Via Rail
The National Park doesn't have a rail station of its own, and so much is true. However, it is quite close to two major stations. One is the railway station of Junagadh, and the other is Veraval. The latter is relatively closer than the first. Though there is yet another railway station of Rajkot, it is farther than both the two stations mentioned. In reality, Veraval is a part of Junagadh district and is a portside city. The distance between Veraval and Gir National Park is approximately forty-five kilometers. You can hire a cab or a taxi from the station and head for the natural reserve.
How To Reach By Air
The infrastructure of Gujarat is commendable and reliable. There are several airports in the state at Rajkot, Diu, Bhavnagar, and Porbandar. Overseas travelers will reach Mumbai International airport and board a flight to either Diu or Porbandar. All the airports are wholly functional and conduct flights every day. Diu happens to be the airport which is closest to Gir National Park. The distance between the park and Diu airport is ninety-five kilometers. Many flights take off from the runway of Diu to and from the state every day. Cabs, buses, taxis, and private vehicles will be there near the airport.
Options For Staying
When a place is as famous as Gir, it is quite understandable that there will be ample accommodation options. The massive footfall that this place receives led to the formation of excellent hotels, resorts, guest houses, and bungalows. There are a few ethnic hotels as well where you can stay inside tents. In a way, adventure isn't going to leave you as soon as you step outside the forest. Your stay at the accommodation facilities can be equally adventurous, exciting, and comfortable. Browse through our wide range of Gir Jeep Safari Packages with accommodation. Best pricing available for Gir Hotels & Resorts.
Click to know the full range of Book Online Trail Wildlife Safari In Gir National Park