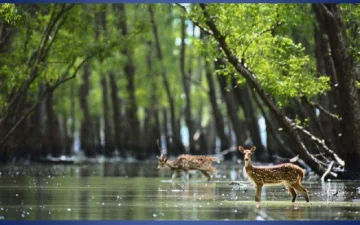 You Are Being Watched By The Tiger!
Scaling the depth of the lovely forests and imbibing the eternal spirits of the flora and fauna on the Park is literally an inexplicable experience. The emperor of Sundarban, the black-and-gold striped Bengal Tiger, always keeps a watch on you – according to a local myth.
Enthralling Boat Rides
If you are really serious to make the tour unforgettable, then a boat ride is the perfect option for you. You can book cheap hotel rooms beforehand, especially when you are traveling in a large group. In most of the cases, the hotel staffs would arrange for an extensive boat ride. These are mainly small country-made boats, with an installed motor at their backsides. As the terrain of Sundarban is either muddy or extremely dense and leafy, with no proper roads to explore the Park, a water safari is an excellent choice you have.
Exploring Conveniently
The region of Sundarban is beautifully criss-crossed with lots of tributaries and small estuaries, adding more to its stunning geographical diversity. Exploration of the Park on a boat is the most practical way to witness the various marvels of Nature it has to offer. It is not that you can't travel on land, but a boat ride is more convenient, and also something unique, on a safari.
Fully Safe
Are you pondering about the safety measures of a boat ride? You would be more than relieved to know that required regulations are fully complied with on such rides. No more than a specific number of people are allowed per boat. Also, conditions of each boat for the tour are re-checked. In general, they are in good shape. Moreover, you can fully trust the skills of the 'boatman'.
Framing The 'King' Becomes More Enjoyable
One of the marvelous attributes of such safari boat rides is you can comfortably click photographs of the majestic beast from a safe distance, when it might be quenching thirst at the banks. The frame would be magnetic, as the tiger strolls and slowly leans over the water surface, taking out its dangling tongue. Mere photographs would not do justice to the scene. You can try taking high-definition videos with good equipment.
Stay In Luxury Resorts
If you are generous with the tour budget, then you can also opt to do advance booking of luxury resorts. There are some standard resorts in the area, with a competitive band of prices.
Feel The Magic
The magic of Sundarban National Park always brims with mysticism, mingle with the local traditions, and as you traverse the region, its impeccable beauty gradually opens up in sublime layers. Your tour on a boat, on greenish blue ripples of the streams, becomes amazingly memorable.