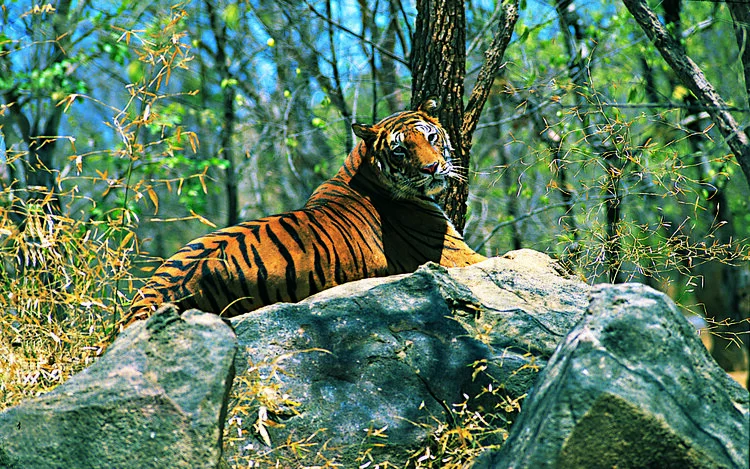 Thekkady Lake Boat Safari
It is counted as one of the main attractions of the Park. You can enjoy sighting wild boars, emphatic elephants (The State Animal of Kerala) and Gaurs. If you are lucky, then you might have a sighting of Indian otters in the crystal blue waters. Various bird species such as Darters and Kingfishers, besides Egrets, could be seen, perching on floating dead trees and twigs. Choose a time between January and April for the tour. The duration of the Boat Safari is about 2 hours.
Thekkady-Gavi Jeep Safari
Gavi is a nearby region in the outskirts of Thekkady. If you are serious about witnessing one of the best greenery spreads of Mother Nature in the area (accounting other places, too), then you can do online booking of a comfortable Jeep Safari from Thekkady. On your way to Gavi, you could witness beautiful valleys, rustic, grassy terrains, distant waterfalls and lovely cardamom plantations.
Trekking
Are you a trekking enthusiast and grab the slightest of opportunities to walk through a scenic territory? There are varieties of trekking tours organized by the Periyar National Parks:
• Day-treks
• Night-treks, and
• Treks for the whole day, or day-long treks
On you trek, you get a scope to be more interactive with the nature around you. The short treks are around 4 to 5 km, distance-wise. There are also treks that last about 3 hours. A local guide would lead the trek. You would be constantly covered by armed forest officials during the journey.
Bamboo Rafting
How about a little session of bamboo rafting at Periyar National Park? The Park arranges for such tremendously exciting activities for the enthusiasts. You would be rafting through a scintillating natural mosaic of variegated habitats in the Park. Some of the rafting sessions could be more than 3-hour long, and offering you a partially panoramic view of the terrain.
Camping In Jungle
Many among you nurture a dream of camping under open sky, in a forest environment, at night. Periyar provides you with the opportunity, meeting your desire. There are nice camp tents at Vallakadavu in the Park. The staying facilities are ecologically friendly. In the lap of nature, you would be engrossed in its mystic magnificence, as you gradually sink in the mesmerizing experience.
Plan Your Trip
Start planning your trip at the wonderful Periyar National Park, as it is obvious that after going through the blog, you can't wait to explore it.
Call 07557322322 for Periyar National Park Safari Packages and Hotel Booking near Periyar National Park