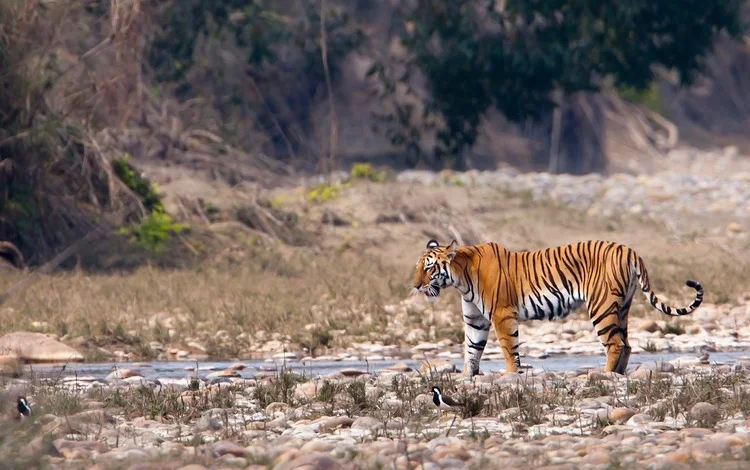 Kanha is an incredibly intriguing National Park where besides the regality of the Royal Bengal Tigers, you enjoy a rich biodiversity. Planning the tour with advanced booking of hotel rooms becomes an exciting activity, ahead of the actual itinerary, when you are aware of the do's and don'ts in the safari tours.
As a responsible wildlife enthusiast, you need to respect the flora and fauna of the forest lands. The onus of saving the environment also lies on you. The below points could be used as references when you are planning to tour the lovely reserve, after online booking of hotels or resorts.
Not making noise
This might seem too obvious but unfortunately, many of the over-enthusiastic tourists don't seem to follow the basic rules in jungles. Shouting and talking too much in Kanha safaris would devalue the experience. The animals and birds are disturbed by the chaos. Try to speak in low voice, and that too when required.
A safe distance from animals is preferable
Don't try to get too close to a wild animal, even if it is an herbivore and small in size. This is in interest of both the animal's and your safety. You would enjoy the safari more when you witness the activity of the animals from a distance, clicking photographs.
Don't be obsessed with your camera
It is quite understandable that there would be several experiences in Kanha safaris that would become lifetime memories. Still, it is not a very good thing to remain glued to your high-definition camera. Learn to enjoy nature in naked eyes from close quarters. In this way, you would definitely imbibe the raw and undiluted spirits of the forests in Kanha. Of course, it is important to click various photographs, but don't make the activity an incessant affair.
Tiger has its mood
Keep in mind that it might be possible to unfortunately miss even a single glimpse of the royal beast in the whole safari tour. Prepare yourself for this if you are very enthusiastic about tiger sighting, although Kanha has multiple lucrative zones where you could spot tigers, especially during dry seasons. It is not you or the safari guide who decides when the tiger could be sighted. It is the decision of the tiger to allow humans to witness him. As a solitary hunting animal, it primarily prefers heavy thickets.
Follow your guide
Generally, there are open jeep safaris in Kanha, where a guide leads a team of tourists. As a part of the group, kindly avoid dictating your terms to the trained guide. The guide is a professional who has ample experience and idea about most of the corners of the forest. It is better to listen to his instructions. Also, don't try to be a bit more adventurous than others, leaving your group and exploring deep forests alone.
Smoking and campfires are prohibited
Cigarette smoke is an irritant for several animal, bird and insect species. Even flowering plants get affected. Try not to smoke in a safari tour. During night tours, lighting campfires is strictly prohibited. The animals get intimidated. The campfires might also begin a forest fire.
Call 07557344344 for KANHA NATIONAL PARK SAFARI PACKAGES and Hotel Booking near Kanha National Park