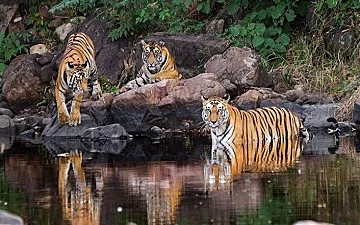 The huge state of Uttar Pradesh, even after being sized down due to formation of Uttarakhand, has a vast number of wildlife sanctuaries, national parks and tiger reserves. As an enthusiastic and passionate traveler, keen on exploring the various flora and fauna species of these parks and sanctuaries, you can refer to a helpful list that would act as an easy resource for your safari tour, providing apt information. Here is such a list that nicely lists down some of the top designated national parks and reserves, where you can visit and revel in nature.
Sohagi Barwa
The beautiful wildlife sanctuary is very closely located to Indo-Nepal border. There are lots of exotic animals residing in the forests of Sohagi Barwa in Maharajganj district. The main attraction is of course the Bengal Tiger. You can also spot leopards in some of the regions of the park. Besides these majestic carnivores, you could see jungle cats, black ibis, Indian civets, deer, common teals, etc. In order to relish the thrills of a tiger sighting, you can consider traveling to Sohagi Barwa during the month of April. The core and buffer zones are also marked by mystic cane forests.
Dudhwa Tiger Reserve
If you are looking for a regal tiger safari, then you can't afford to miss the inexplicably magnetic charm of Dudhwa Tiger Reserve. The rule of the jungle – the Bengal Tiger – is frequently watched by tourists. There are also other animals such as leopards and barking deer. The swamps of Dudhwa have Ghariyals. Meadows of the forest land are beautiful with a vast range of flora species, including big trees, bushes, shrubberies and wildflower plants.
Mahavir Swami Wildlife Sanctuary
It is yet another lovely forest area, adorned with dense forests all around. One of the interesting features of the sanctuary is the existence of a large group of Jain temples in the premises (there are 41 such temples). From leopards to Sambhars to wild boars, there is no dearth of animals residing in these expansive jungles.
Bakhira Bird Sanctuary
If you are particularly interested in bird-watching and desperately want to visit a forest area that would let you enjoy your passion, then one of the top names to reckon with is the charming Bakhira Bird Sanctuary that is located 46 km away from Gorakhpur. Visiting Bakhira during winter months would let you witness the magical flights of thousands, and even lakhs of migratory birds, such as waterfowls. Two common avian species found in this sanctuary as purple moorhens and swamp hens.
Chandraprabha Wildlife Sanctuary
You could conveniently visit the rural outskirts of Varanasi in order to spend quality time on a safari in the swaying trees and wild plants of Chandraprabha Wildlife Sanctuary, an abode to several species of animals. From blackbucks to Indian gazelles, you would witness different exotic animals here. Also, the forests are marked by beautiful waterfalls.
Reserve your tickets
Do advance booking of your hotel rooms when you plan to visit the beautiful forests of Uttar Pradesh.
Call 07557366366 for Dudhwa Tiger Reserve Safari Packages